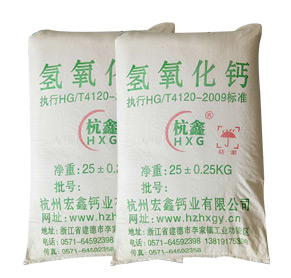 Environment protection calcium hydroxide
Environment protection calcium hydroxide
In accordance with HG/T 4120-2009
1.Molecular formula: Ca(OH)2

2.Molecular weight: 74.096

3.Physical and chemical properties:
Soft white powder, with a strong alkalinity & hygroscopicity, density 2.24, bulk density 0.45-0.8, soluble in acid, rarely soluble in water and insoluble in alcohol.

4.Characteristics and Uses
This product is made in special craft, with less impurities and better Fineness. It is widely used in sewage treatment, neutral treatment of acidic water, desulfurization of flue gas, waste incineration, etc. Used for sewage treatment, it can effectively remove phosphoric acid radical, sulfuric acid radical and fluorine ion; its coagulation decolorization effect is better than that of caustic soda lye, compared with the sodium hydroxide lye, it can lower use cost.

5.Main control index:
No.
Project
Content
1
Calcium hydroxide (as Ca(OH)2) %≥
Calcium hydroxide
90.0
2
Moisture %≤
Moisture
2.0
3
Hydrochloride Insoluble %≤
Insoluble hydrochloride
1.0
4
Fineness (200 Mesh residue) %≤
200 Mesh residue
5.0

6.Packing
25kg/bag, plastic coated package or flexible freight bag or bulk.