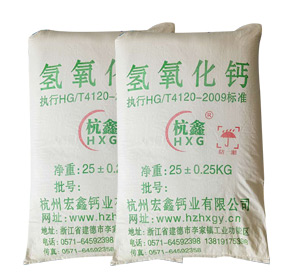 Common calcium hydroxide
Common calcium hydroxide
In accordance with Q/HHX 001-2012
1.Molecular formula: Ca(OH)2

2.Molecular weight: 74.096

3.Physical and chemical properties:
Soft white powder, with a strong alkalinity & hygroscopicity, density 2.24, bulk density 0.6-0.8, soluble in acid, rarely soluble in water and insoluble in alcohol.

4.Uses
widely used in architectural heat preservation mortar, sewage treatment,neutral treatment of acidic water, desulfurization of flue gas , waste incineration, reduce the acidity of soil, improve soil structure, etc.

5.Main control index:
No.
Project
Content
1
Calcium hydroxide (as Ca(OH)2) %≥
Calcium hydroxide
85.0
2
Moisture %≤
Moisture
2.0
3
Fineness (200 Mesh residue) %≤
200 Mesh residue
15.0

6.Packing
25kg/bag, plastic coated package or flexible freight bag or bulk.